ever.me - fresh style for spring
The new own brand from fashion discounter TAKKO "offers style-conscious women versatile fashion for every occasion. From chic office looks to practical everyday outfits and trendy party styles, the brand combines design, comfort and quality"
So the brand's focus is on the right garment for every day and every occasion. No off-the-wall seasonal trends, but really something for every day. The Namestormers have already developed strong names for Peter Hahn's own brands with DAYLIKE and include, and were now able to apply their experience to finding a name for TAKKO. The name had to fit in with Takko's existing brand world and come across as casual and easy to understand. Under no circumstances should it sound too exaggerated or outdated, so that it fits in with the everyday basic look.
"Easy" is not easy to find
It is often most difficult to find a "simple" name. Because the name should be easy and understandable for everyone, but not trivial or too simple. With all simplicity, no trashy or even cheap impression should arise. Easily understandable words are not infinitely available and precisely because of their simplicity they are popular and have been used many times.
Thus, the ever.me name search was characterized by the search for simplicity with a stylish twist that makes the name unique despite everything. The tricky name development finally led to the creative combination of the English words "ever" and "me". This says in short English words that the fashion fits for all (every) occasions and at the same time establishes a personal reference to the wearer, who thus feels well dressed every day: ever.me - always fits for me.
"ever.me" transports the casualness of fashion already in the name. The friendly design supports this impression and creates a stylish and at the same time sympathetic look. Styling for spring is assured - with ever.me!
STO sets new standards in sustainability with AimS®.
Quality, climate protection, and resource conservation are the basis for the new sustainable product line AimS®. Sto wants to set new standards in ecological, economic, and social criteria while maintaining excellent processing properties. So that everyone can work safely, sustainably, and with a clear conscience.
This high demand for true sustainability at all levels also flowed into the development of the name. The name was intended to reflect the fact that all aspects of sustainability are taken into account and that it is not just an ecological paint job.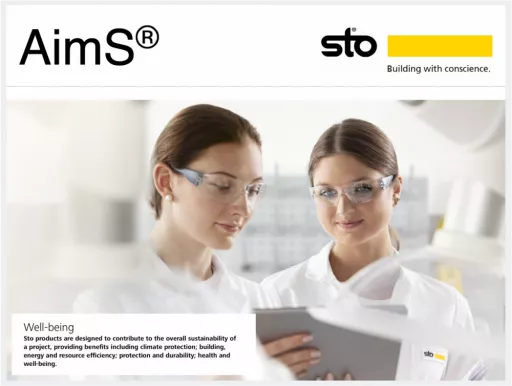 The name AimS® figuratively expresses that really all sustainable goals are kept in mind, from the strictly monitored contents to social aspects during production to the recyclability of the products after their use has ended. Only products that meet all these criteria are given the premium sustainability name "AimS." In finding the name, Namestorm deliberately avoided relevant - and interchangeable - keywords such as Nature, Eco or Green, in order to express in the name the special path that Sto is taking here: No Greenwashing!
Namestorm 2021 continues with such strong brand(name)s: New names for well-known manufacturers from the pharmaceutical, IT, drugstore and construction industries can be expected soon.