Drift - title consultancy for Sky Original Series

The new Sky Original Series with Ken Duken, working title at the time "Autobahn," was to be given a title that emphasized the action character and could hold its own among top-class international series in today's streaming offer. Not so easy, as it soon turned out.
A lot of title-storming, great ideas - and then?
Initially, there were plenty of ideas, but as we all know, the devil is in the details, especially in decision-making. When Namestorm was brought on board, there were already long lists of different ideas from several brainstorming sessions - but there was no final decision in sight.
Fascinating: the final title, "Drift," was already one of many suggestions. But as is so often the case: at some point, you can no longer see the forest for the trees. "Especially when the client has already put a lot of time and commitment into coming up with ideas, we always try to build on what's already there. Sometimes that also means sorting out together that the solution already exists," explains Namestorm owner Mark Leiblein.
Finding titles for films and series is always challenging because artistic and commercial aspects combine, and many people and agencies are involved. That's why we're glad that Markus Fortner, Head of Production at Sky Deutschland, was available for an interview and told us about his learnings from the process:
How much time do you plan for finding a title - from the first naming session to the final decision?
If possible, you should plan for several weeks. Finding a title is a long process that takes a lot of time. It takes time to say goodbye to the previous working title, discuss the suggestions, and let them take effect. And it takes a lot of time to narrow down further and discuss the selection until the perfect title is found.
What is the essential function of a series title: to tease the content or to arouse curiosity and attract attention?
Overly descriptive titles tend to be bulky and unsexy, whereas eye-catching titles carry a high risk of being misunderstood. Therefore, I believe the most important function of a series title is to arouse curiosity and get the viewer to take a closer look at the series.
How important do you think the title is for the success of a series?
The title is only one among many, but it is an essential factor for the success of a series. The title immediately creates images in the viewer's mind and arouses expectations. If the expectations coincide with the series, we have won. If these expectations are not met, the viewer very quickly loses interest.
You chose an English title even though it's a German series. Is that specifically due to the action genre?
It's less about whether a title is German or English. It's more important that it fits and evokes the right associations: Cars, action and stunts, an essential part of the series.
We had to take a few rounds until the title for DRIFT - PARTNERS IN CRIME was decided. What are your most important learnings for finding a title for a series format?
The most significant learning is that there is no such thing as THE perfect title. Everyone involved will never decide on the same title, as we will have different thoughts and associations with the proposals. That makes it all the more critical for everyone involved to be open to listening to and discussing other opinions.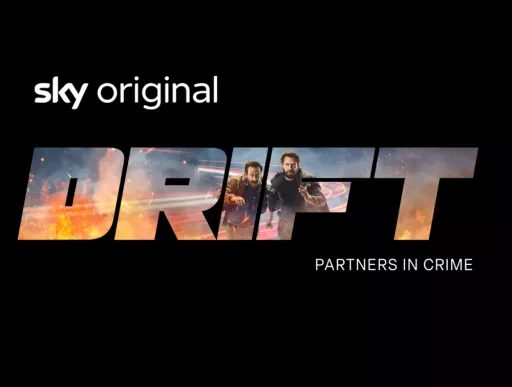 Finding a title with the proper method
With additional creative input and the voting process we moderated in several steps, the title was finally decided: DRIFT - Partners in Crime. It definitely sounds like action and - without knowing the exact translation - "Drift" (= drifting, deviating) suggests cars and speed. That perfectly captures the central theme of the series: A fast-paced trip of two brothers from Munich to Greece with lots of action and a gripping crime plot.
The Namestormer would like to thank the Sky team for the interview and the exciting collaboration. We wish the viewers much success and now exciting entertainment with DRIFT - Partners in Crime.